News are only available in the original language.
Actualité
Conférence Life Cycle Management 2017
Leurs Altesses Royales le Grand-Duc et le Prince Louis ont assisté à la cérémonie de clôture de la Life Cycle Management Conference 2017 (LCM).
Au préalable, S.A.R. le Prince Louis a participé à la conférence relative au Food waste management (sector) in a circular economy.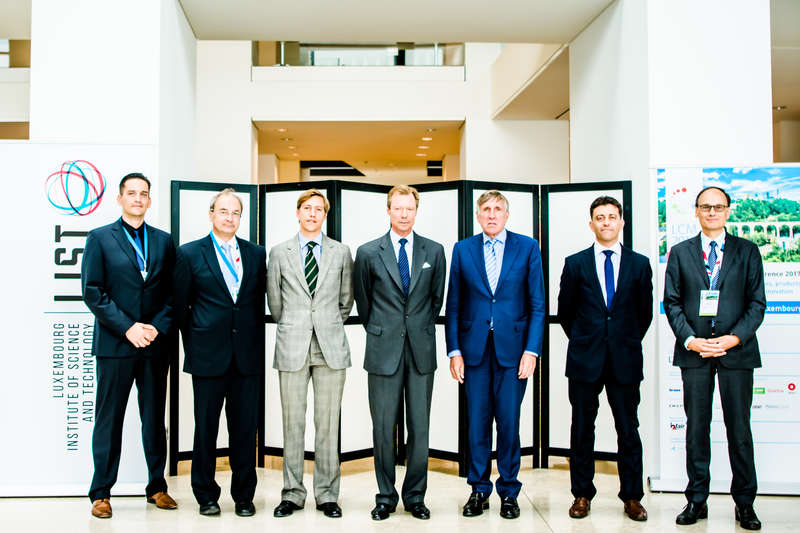 © Luxembourg Institute of Science and Technology (LIST)
De gauche à droite: Messieurs Killian Gericke (LCM2017 Co-Chair, senior researcher in the Engineering Science research Unit, University of Luxembourg), et Lucien Hoffmann (directeur de department au LIST), Leurs Altesses Royales le Prince Louis et le Grand-Duc, Messieurs François Bausch (ministre du Développement durable et des Infrastructures) Enrico Benetto (président du Comité d'organisation de la conférence et directeur «Life Cycle Sustainability and Risk Assessment» RDI Unit - LIST) et Jan Bollen (LCM2017 Industrial Co-Chair, Manager of the environmental aspects of products, ArcelorMittal Europe).
La LCM, qui se tient tous les deux ans, porte sur la conception de technologies, de produits et de politiques durables. Elle rassemble dans son édition 2017, et ce pendant trois jours, plus de 600 participants de 40 pays.
Le Luxemburg Institute of Science and Technology (LIST) assure cette année l'organisation de la conférence internationale LCM 2017, en collaboration avec l'Université de Luxembourg et ArcelorMittal.